"Intellectually brilliant and at the
same time spiritually resonant."
—The Honorable Martin Risacher (Ret.)
"A timeless work of genius ."
—Robert W. Hunt, PhD, professor emeritus of
mathematics, Humboldt State University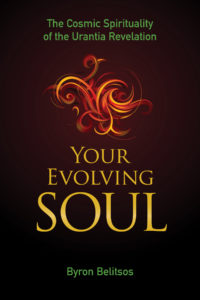 YOUR EVOLVING SOUL:

The Cosmic Spirituality of the Urantia Revelation
Byron Belitsos
ORDER NOW AT AMAZON
Publication date: May 25, 2017 • Origin Press • 352 pages • Glossary, appendices, and index
•   $18.00   paperback edition (ISBN: 9781579830366)
•   $9.99     eBook edition (ISBN: 9781579830373)
—An inspiring study of the unprecedented revelations about the human soul in The Urantia Book
—First full introduction to the spirituality of the Urantia Revelation
—Offers a revolutionary model of the cosmic purpose of love and relationships
—Author is an award-winning editor, author, and publisher and expert in The Urantia Book

DISCOVER THE URANTIA BOOK AND UNDERSTAND
THE MYSTERY OF THE HUMAN SELF AND SOUL
Sparks of genuine revelation are contained in many traditional religions and esoteric systems. According to Your Evolving Soul, we've been graced with a new revelation for our time: the little-known Urantia Book, which has quietly sold over one million copies in fifteen languages despite its length of over two thousand pages. According to the author, its futuristic disclosures about self, soul, and spirit stand alone in coherence and richness of detail. Your Evolving Soul is one of the first books to explain this advanced teaching for the ordinary reader, offering new clarity and inspiration for practitioners on any path.
In this work, Belitsos provides essential context by illumining the relationship of the Urantia teachings to modern psychology and to the world's religions, with special emphasis on Christianity and Buddhism. Along the way, Your Evolving Soul also provides an introduction to the scientific cosmology, panentheistic theology, and integral philosophy of the Urantia Revelation. By reading this book, you will discover how your evolving soul becomes an immortal vehicle of identity that unfolds your unique destiny, now and into the afterlife.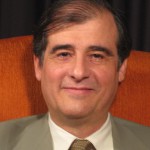 Byron Belitsos is a leading exponent of The Urantia Book. He is the publisher, editor, or coauthor of numerous acclaimed books, including many related to the Urantia Revelation. Byron has been a student of The Urantia Book for four decades, and has spoken about its teachings at many conferences and on innumerable programs, including Coast-to-Coast AM Radio, Red Ice Radio, and GaiamTV. Belitsos is also the coauthor of A Return to Healing (Origin Press: 2009), winner of a Nautilus Gold. He holds a B.A. in intellectual history from the University of Chicago and his graduate studies have embraced poetry, humanities, literature, and religious studies. He is the founder of Origin Press, which has won numerous national awards, and was also an inaugural member of Ken Wilber's Integral Institute. He resides in San Rafael, California.
Praise for Your Evolving Soul
"Finally! The revelatory, scientific, and evolutionary import of The Urantia Book has been situated within an integrative context for the 21st century and beyond. Byron Belitsos' wonderful book is a clarion call for all of us to (re)engage the Urantia cosmology and consider its provocative meta-view in a new and grounded way. The contribution Belitsos makes to our understanding of soul dynamics is essential reading in these turbulent times.
—Sean Esbjörn-Hargens, PhD, founder of MetaIntegral; executive editor of the Journal of Integral Theory and Practice; editor, Metatheory for the Twenty-First Century
"In this important book, Belitsos brings his great learning in the world's spiritual traditions to bear on the question of soul evolution. He illuminates the Urantia Revelation masterfully, placing this revelation within the larger context of the nature and function of our soul. In my view, this work truly makes a major contribution and deserves a wide readership."
—Glen T. Martin, PhD, professor of philosophy and religious studies at Radford University; author, One World Renaissance and Millennium Dawn
"Not that often do 'new revelations' have an exegetist and polyglot who links them immediately to a pluralistic or integral developmental framework and lens. More often, they linger for years with other adherents believing they have a 'one and only way.' Belitsos gives the Urantia message a fortuitous leap by linking it immediately to the modern oeuvre of interspiritual and integral worldviews."
—Kurt Johnson, PhD, coauthor, The Coming Interspiritual Age
"Your Evolving Soul is a magnificent and timeless work of genius that will inform, enlighten, and raise the consciousness of truth seekers for this and future generations."
—Robert W. Hunt, PhD, professor emeritus of mathematics, Humboldt State University
"Your Evolving Soul is intellectually brilliant and at the same time spiritually resonant. The author supports in a most eloquent way the immense value of the revelatory work, The Urantia Book. He has not only performed a great service on behalf of this revelatory text, but he makes it real and meaningful in the lives of readers."
—The Honorable Martin Risacher (Ret.)
"This extraordinary and brilliant book unveils the Urantia Revelation for those not yet ready to tackle such a lengthy tome. Byron not only makes a convincing case for its relevance today, but also manages to add a history of spiritual and philosophical thought that I found surprisingly interesting. Today's spiritual fashion seems to be pantheism, but Belitsos' lucid writing will awaken you to richer and far more inspiring ideas about the human soul and the nature of God."
––Katie Darling, spiritual teacher and founder of iWAVE Institute
""Byron has been a good friend of mine for over thirty years, and I very much appreciate his big heart and keen mind. His latest book is an impressive fruit of his long spiritual journey. Although I'm not a Urantia Book believer, this mysterious text is clearly full of inspiring spiritual teachings and deep theological insights, which Byron admirably brings to light. Moreover, Your Evolving Soul demonstrates the Urantia Book's strong affinities with integral philosophy."—Steve McIntosh, author of The Presence of the Infinite, Evolution's Purpose, and Integral Consciousness
"Your Evolving Soul not only targets the Urantia Book's spirituality from the standpoint of the author's own insightful experience—placing it in a profoundly relevant historical context and destiny—but he also rips apart the very foundations of this normally elusive topic to reveal just how much spiritual consciousness one person can have. As I read Your Evolving Soul I most assuredly climbed the rungs of Jacob's ladder to soak in the living Paradise Father and his transforming love."
—Rev. Dr. Rob Crickett, global minister and teacher, and author of over twenty books on spirituality and Christianity
"Brilliant! Belitsos conveys a profound explanation of why we're here, where we're going, and our contribution to the evolving soul of creation. His seminal work gathers and integrates vast knowledge of our traditions and also explicates the epochal revelation of the age to come that is stunningly delivered by celestial authors. What a journey of mind-understanding and soul-awareness that enables the serious reader to connect with his own soul and cooperate in its growth."
—Richard Rosen, PhD, author of Dear Abba and Life After Death