What made these people
fans of the Urantia Book?


Find out by viewing exclusive YouTube footage
of the historic "Evolutionary Revelation" Conference,
as it is released in the coming weeks.

75-minute introductory talk by Byron Belitsos 
Click here
Two veteran Urantia students on
living a life with epochal revelation
Click here
Robert Kraft, PhD on soulful living
with the Urantia Revelation
Click here 
 (To get notice of new installments,
join our email list on our home page.)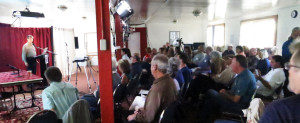 What's in this footage?
The installments will contain numerous introductory presentations on
Urantian cosmology, history, philosophy, spirituality and more,
by some of the world's leading Urantia experts.
Featuring: Jeffrey Wattles, PhD, Byron Belitsos, Phil Calabrese PhD,
Halbert Katzen, Bob Kraft PhD, Errol Strider, Meredith Tenney, Chuck Thurston


Special respondent: Dr. Ted Peters, emeritus professor of theology at UC Berkeley

The videos contain professionally shot footage of two full days
of speakers on June 14-15, 2014 in Marin County, CA
Click

HERE

to see the roster of expert speakers.
Click

HERE

to see conference program.

 
"I was quite amazed, surprised, and impressed at what I learned
and experienced about the Urantia Book and the many aspects of it's teaching." – E.K.